Can anyone living in South Dakota access and utilize free South Dakota state records? Understanding who can access what information makes the process of searching public records, criminal records, and court records for free as easy as possible for South Dakota residents and the general public.
Knowing the basic steps of how to search for anyone's information, whether it is for employment verification or for criminal history for a specific job, can help individuals and employers gather an abundance of details on a person.
South Dakota State Record Requests
The South Dakota public record laws make it possible for the general public to access public records of the government within the state. Public records are considered to be all documents or information kept by government agencies in South Dakota.
The only drawback to this law is that there is no mandated response time from the government, meaning a records request can sometimes take a long time to go through the system.1
There are a few exemptions from who can access public records. South Dakota state records containing school information, juvenile court information, adoption records, hospital information, and medical research are not available for public consumption.
Getting Criminal Records in South Dakota
South Dakota criminal records contain the criminal information of a person compiled through the state's local and state departments. The information contained in a criminal record includes arrests, days of arrests, convictions, post-conviction status, and incarceration information.
Other important information within the criminal records include:
Physical description/identifiers
Fingerprints and mugshot
Charges
Subject's name and known aliases
Age
Race
The South Dakota Computerized Criminal History contains the criminal information of every convict within the state. Searchers can also access criminal and protection order searches through the Public Access Record Search.
Criminal records are helpful in seeing a person's past and verifying if they are the right person for a specific job. Both individuals and employers can use a criminal record search to find more information about a subject.
If a person is having trouble finding criminal records using state resources, they can use third-party search sites to find comprehensive data. Users should only use paid search sites to find reputable information since free third-party sites can sometimes contain inaccurate or incomplete information.
Does Anyone Have the Right to View Criminal Records in South Dakota?
In South Dakota, criminal records are considered South Dakota state records and any person can perform a free public criminal record check. However, individuals must obtain written consent and a release form to obtain copies from the Department of Criminal Investigation. 
Various Ways to Find Criminal Records in South Dakota
Individuals can find criminal records in South Dakota by using various methods.
Online
Visit the South Dakota Legal Self-Help law website
Click on 'Criminal Law'
Click on 'Record Search'
Click on 'Criminal and Protection Order Searches'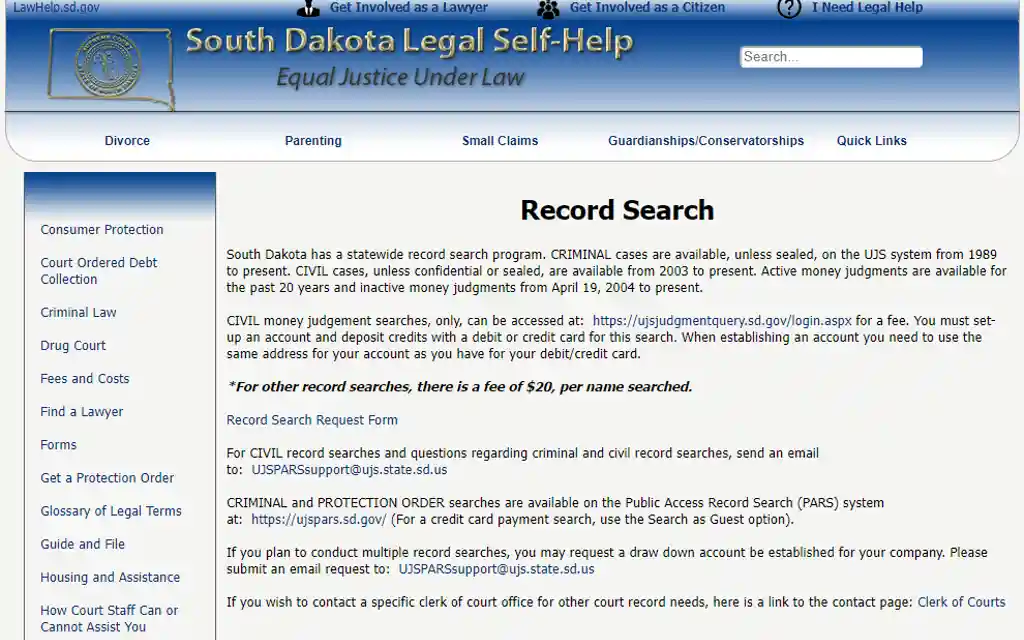 The other online method is to use the South Dakota Attorney General's website.
Visit the ATG website
Click on Law Enforcement
Click on 'Identification'
Click on Computerized Criminal History to search for a criminal report
Offline
The other method of obtaining criminal records is to use an online method and send in a request to the police department involved with the specific case in the area.
Users must download a written request form
Users must obtain a release form from the subject
Submit the request form and release it to the Department of Criminal Investigation
Pay the $10 fee
Juveniles Criminal History & Records in South Dakota
Juvenile criminal history and records in South Dakota include all criminal activity by minors when they are under the legal adult age. In most cases, those who are wishing to get information on juvenile and their history must have court permission and be certain individuals:
The subject in the juvenile history report
Surrogate
Parents or guardians
The Defense Attorney's Office
The Juvenile department
Judge of the juvenile court
Service providers
Juvenile records are not expunged once a person becomes an adult. Therefore, juvenile records become South Dakota state records once the person becomes of legal age until they go through the steps to have their record expunged.
Can I Check if I Have a Warrant in South Dakota? (Free Warrant Search)
A warrant in South Dakota is an official court-ordered document that gives law enforcement the ability to search an individual, seize property, or detain a person they believe to have been connected with a crime. A judge or magistrate will issue an arrest warrant for a person in a criminal case.
A person can find out if they have an arrest warrant in South Dakota by using various resources:
Background search through the South Dakota Division of Criminal Investigations

Requires consent and a fingerprint-based search
Third-party searches require a signed consent form

US Marshall's Service includes information on federal fugitives with warrants or state fugitives with active warrants
Local law enforcement agencies contain warrant information (ex: specific counties, such as Clay County, contain records)
Third-party websites offer active warrant searches too
Find Sexual Predators – How to Navigate the Sex Offender Registry
The Division of Criminal Investigation in South Dakota maintains a sex offender public registry that offers those who have been convicted of sex-related offenses within the state. The Sex Offender Registry is available for public use.
Visit the SOR website
Click on 'I agree and understand'
Click on the Text Search or Neighborhood Search

Text Search – last name, first name, city, alias, county, zip code
Neighborhood Search – address, city, search radius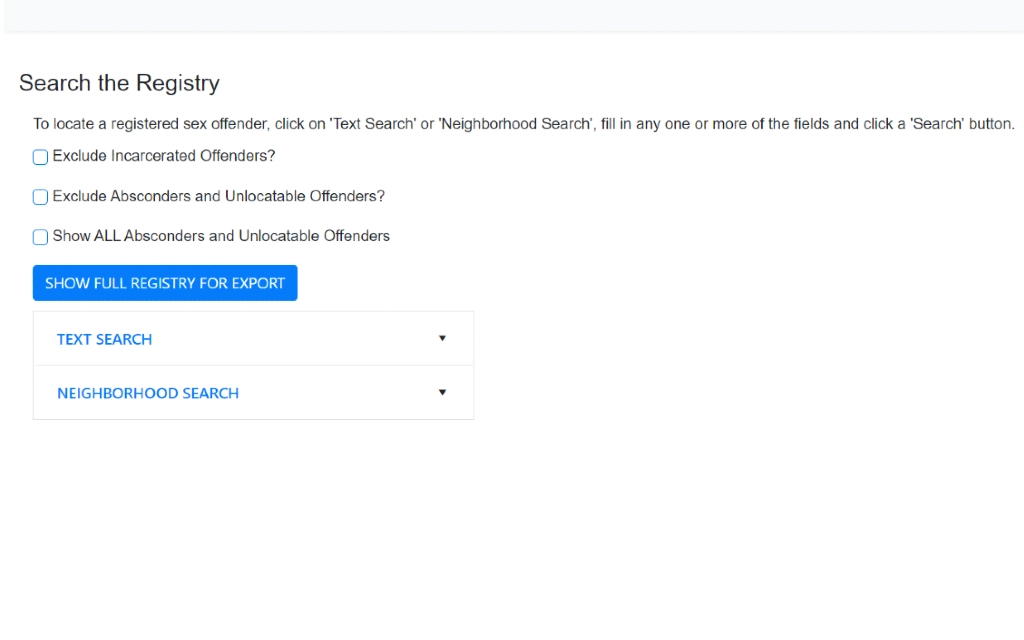 Background Checks in South Dakota: Summarized
There are different background checks used in South Dakota to uncover information about someone's history, whether as an individual searcher or as an employer.
There are specific background checks required by law in the state of South Dakota:
Search on the Central Registry of Child Abuse and Neglect
Search on the Sex Offender Registry
South Dakota fingerprint check
FBI fingerprint check
National Crime Information Center
Criminal Background Check (State, Fingerprint-Based) through the Division of Criminal Investigation
The first background check commonly utilized in South Dakota is the name-based, statewide background check. In South Dakota, criminal records are public through the Freedom of Information Act since they are contained and used by the law enforcement agencies within the South Dakota state. The information provided in the criminal check includes:
Name of the subject
Case number
Defendant
Charge
Filing date
Degree
Disposition and date
Sentence2
The process of submitting this state-only background check involves getting a fingerprint background check. Individuals can find public criminal records through the South Dakota Supreme Court for a fee of $20.
A criminal background check typically takes between 1-3 business days on average.3
Employment Background Check
An employment background check is useful to help find a person's credit score, employment verification, driving record, education history, and criminal record. This type of background check is used for the following professions:
Healthcare — South Dakota follows the federal law when it comes to healthcare background checks, ensuring any person who has contact with the public in a healthcare setting must undergo a background check.
Law enforcement — South Dakota law enforcement requires a state and federal background check.
Education — South Dakota education requires individuals to have a background check for a teaching position.
FBI Background Check (Federal Level, Fingerprint-Based)
Another type of background check in South Dakota is a background check that houses all federal information. This type of check requires consent and fingerprints from the individual to find information within the central FBI database.
Individuals must obtain fingerprints from the subject (must give consent)

The subject must obtain fingerprints from a USPS location to submit electronically.

The searcher can fill out the online background check information through the FBI website.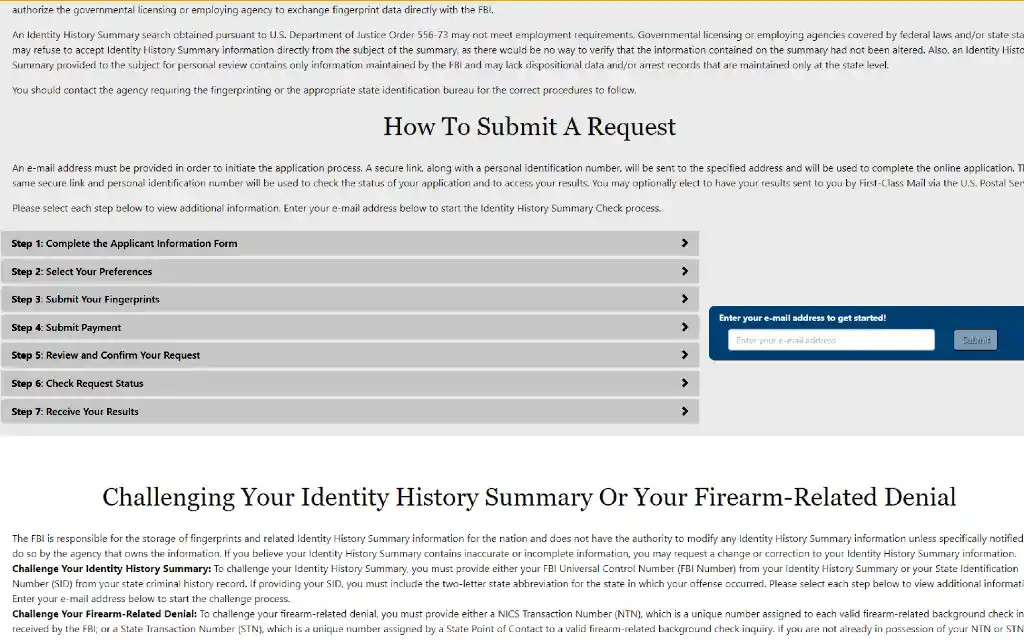 OR, the other alternative is to use a mail-in method:
Filling out the information form
Obtain a set of fingerprints on the standard fingerprinting card
Submit payment online by using a money order or cashier's check
Send the items to the following address:
FBI CJIS Division – Summary Request
118 West Capitol Avenue
Pierre, SD 57501 
An employment background check usually takes between 2-5 business days.4
South Dakota Court Records & Judicial System
The South Dakota Unified Judicial System contains different levels of the court that deal with specific cases. South Dakota contains the Supreme Court and the circuit courts.5
Supreme Court — final judiciary authority on all matters of the legal and judicial system within the state
Circuit Courts — the majority of criminal proceedings and civil litigation
Magistrate Courts — misdemeanor criminal cases and minor civil actions
Specialty Courts — probation program for those with mental health or substance disorders
See Anyone's Court Records in South Dakota
The South Dakota Sunshine Law and Court Records Rule state that the public has access to court records in South Dakota. South Dakota state records include public records held by a governmental authority within the state, allowing access to information from agencies provided by law. 
The Court Records Rule outlines the procedures for obtaining court records within the state of South Dakota. This rule provides information and a step-by-step process for how to access court records or contact court officials in charge of the records.
According to this rule, the public has access to the records unless they are specifically exempt from public viewings, such as the following:
Abortion records
Abuse court records
Adoption files
Information restricted by Federal or State law
The first step in locating court records is to find the local court that maintains the court records by viewing the Court Clerks. Once searchers have done so, they can find court records through one of the following methods:
In-person — Individuals should visit the court in which the case was heard. If a person wishes to obtain details of court records, they should visit the State Supreme Court Building. Their address is South Dakota Supreme Court: 500 East Capitol Avenue, SD 57501
By mail — Mail a request to the Court Administrator and include the $20 payment
Submit a request for court records to the court clerk
Remote search — Visit the South Dakota Unified System site and upload the necessary request form.
South Dakota Judicial System website — Visit the South Dakota Judicial System and pay a $20 fee for a court records search
PARS website — Use the Public Access Record Search System website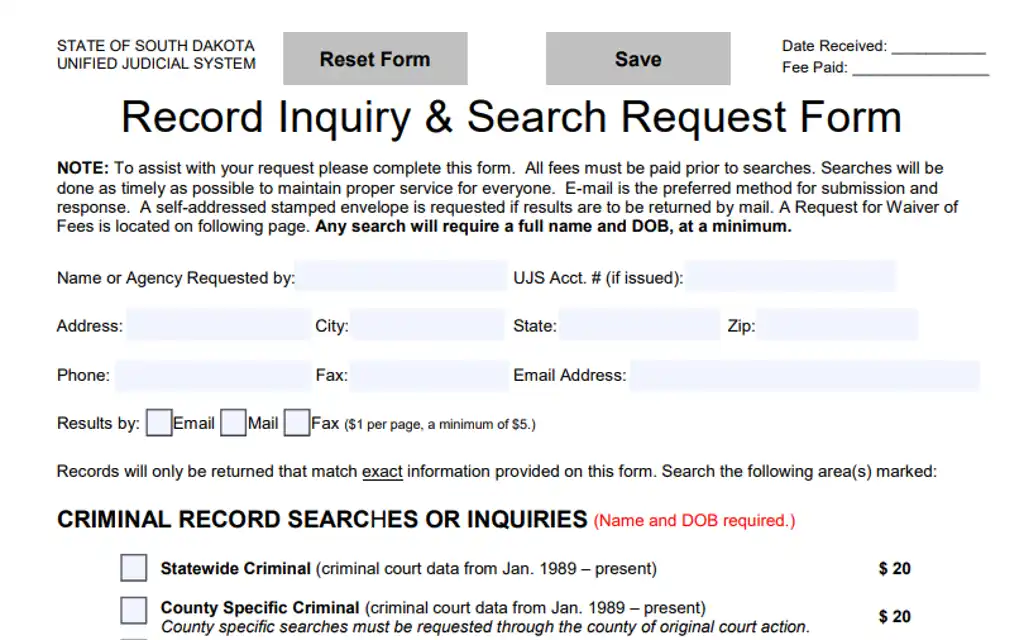 Check if Someone Has Ever Filed Bankruptcy in South Dakota
A bankruptcy record is a court file that contains financial information about a person who owes money to creditors.6
South Dakota bankruptcy records contain information an individual owes to debtors. The District of South Dakota Bankruptcy Court contains statewide information and bankruptcy records. There are a few methods to obtain bankruptcy records or check if someone has ever filed for bankruptcy within the state:
1. In-person: The U.S. Bankruptcy Court maintains information accessible via public terminals in all courthouses. An individual can use the public terminal or speak with the clerk by providing the case number, name, docket number, and other important information. The South Dakota bankruptcy court is located at the following address:
U.S. Post Office and Federal Courthouse
225 South Pierre Street, Room 203
Pierre, SD 57501-2463
2. Online: The second method for looking at bankruptcy records in South Dakota is to use an online method through the PACER system. This method costs $0.10 per page.
South Dakota: Inmate Records & Look Up Information
Inmate records are held by all correctional facilities within the state and are viewable due to the South Dakota Sunshine Law. inmate records are publicly accessible in the United States through government resources and third-party services.
To find inmate records, searchers should know the basic information of the subject in question, such as the location and the name of the subject.
The steps that searchers should take before they begin to use governmental sources include:
Find the location where the inmate is being held
Determine if the subject is in jail or prison
Use online resources to find if the location has inmate information
If there are no online records, contact the record custodian
If there is no custodian contact information, contact the county clerk, sheriff, city jail, South Dakota Police Department, or the Bureau of Prisons 
Inmate records are helpful to searchers who wish to visit an inmate, send packages to an inmate, or speak with them on the phone.
Further information for jail inmates and prison inmates can be seen below. 
Best Ways to Find Someone in a South Dakota Jail
There are 25 county jails within the state-operated by county sheriff's offices.7
The first way to find a person in a South Dakota jail is to use the local sheriff's offices where the person may have been arrested. For example, Minnehaha County Sheriff's Office contains contact information, the sheriff's name, 'Who's Behind Bars', 'Most Wanted', 'Jail Information', and other useful information.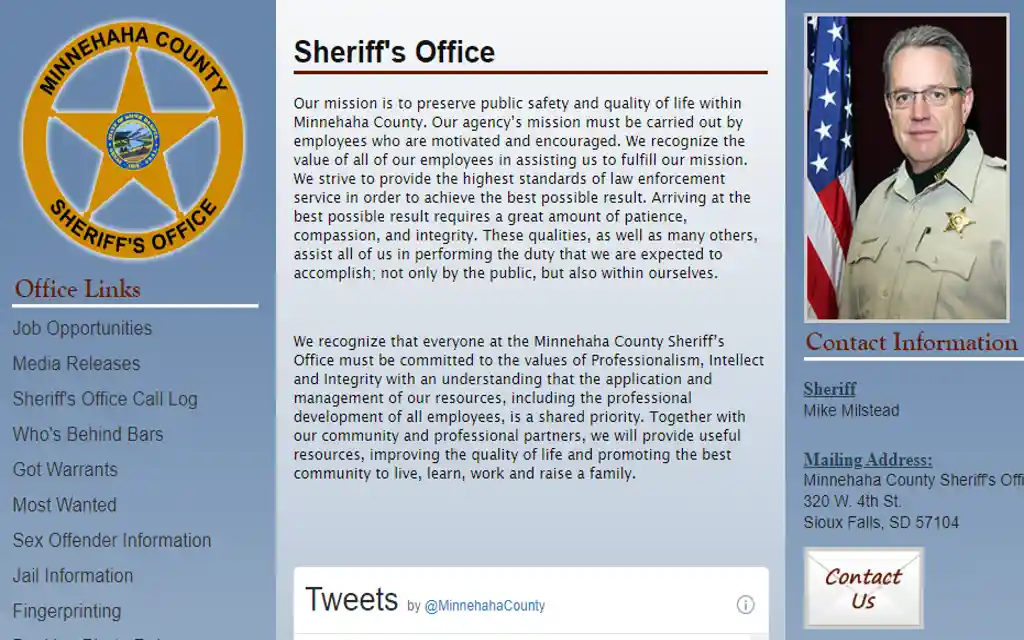 Individuals can look for someone in a South Dakota jail by using court websites. After finding a list of counties in South Dakota, individuals can choose the respective county where a person may have been arrested and use their resources to contact the sheriff's website or view a list of current inmates. For example, Clay County provides access to an inmate list in their jail.
Lastly, individuals can also use VINELink to find someone in a South Dakota Jail.
How Do I Look at Citizens Mugshots in South Dakota?
Citizens can find mugshots in South Dakota by utilizing local sheriff's office websites to see recently arrested individuals, contact the sheriff to ask about recent arrests, or view mugshots. For example, Pennington County Sheriff's Office provides information from the local sheriff's office, such as 'Inmate Mugshots'.
Find Prisoners – South Dakota
Individuals can find prisoners by using federal and state resources.
Federal inmates can be found using the Bureau of Prisons website inmate locator tool.
State inmates can be found through the South Dakota Department of Corrections website.
Visit the DOC website
Click on 'Adult Corrections'
Click on 'Offender Locator
Enter the DOC #, last name, or first name
For individuals who are trying to find prisoners within the state of South Dakota, there are various addresses in South Dakota operated by the South Dakota Department of Corrections that house prisoners:
South Dakota State Penitentiary
1600 North Drive
Sioux Falls, SD 57117
Jameson Annex
1600 North Drive
Sioux Falls, SD 57117
South Dakota Women's Prison
3200 East Highway 34
Pierre, SD 57501
Rapid City Community Work Center
2725 Creek Drive
Rapid City, SD 57703
Mike Durfee State Prison
1412 Wood Street
Springfield, SD 57062
South Dakota Vital Records – Overview
Vital records are important documents held under government authority, such as marriage certificates, divorce certificates, birth records, and death records.
The South Dakota Department of Health is in charge of the South Dakota Office of Vital Records which houses the birth, death, marriage, and divorce records for the state and contains certified copies.
Can Everyone See Vital Records in South Dakota?
Vital records in the state are NOT open for public inspection.
The South Dakota Vital Records Office in the Department of Health can issue a basic copy or certified copy to only those who meet the specific criteria to obtain these copies.
To obtain certified copies, an individual must be one of the following:
Registrant
Spouse
Child
Parent or guardian
Next of kin
Authorized agent
Designated agent
To obtain informational copies, individuals can access a computer and gain non-certified copies. For photostatic copies, a person can obtain photocopies of the original without needing an eligible individual.
How to Check Free Marriage Records & Free Divorce Records in South Dakota
An individual can obtain marriage and divorce records in SD by various methods:
In-person:  Print the application and fill it out, bring a payment method, bring a government ID, and go to the following address or one of the Register of Deeds offices. The primary location being 221 West Capitol Avenue. Pierre, SD 57501 
Mail: Print the aforementioned application and mail it to the address with a copy of the government ID and payment
Internet: Visit VitalChek and pay the respective fee ($15 for the certificate, $6.50 for VitalChek fee, $5 for expedited service, optional UPS next-day shipping $17.50)
Request a New Death or Birth Certificate in South Dakota
A birth certificate is a vital record that documents a person's birth. A death certificate is a document ordered by a medical practitioner that states when a person has died, the cause of death, the time of death, and the age of death.8
To request a new death or birth certificate in South Dakota, individuals must meet the criteria of a requestor. After they meet the criteria, they must pay one of the following:
Certified or information copy of birth, death, marriage, or divorce record – $15
Certificate of birth resulting in stillbirth – $10
Amending a birth or death record – $8
Preparation of a new birth certificate – $5
Preparation of a new birth certificate after adoption – $15
The general public can benefit from learning how to access South Dakota state records utilizing local, state, and federal resources.
1South Dakota FOIA Laws. (n.d.). National Freedom of Information Coalition. Retrieved June 1, 2022, from <http://www.sdlegislature.gov/Statutes/Codified_Laws/DisplayStatute.aspx?Type=Statute&Statute=1-27>
2South Dakota State Background Check. (n.d.). Background Checks. Retrieved June 1, 2022, from <https://www.backgroundchecks.com/our-data/coverage-map/south-dakota-state-background-check>
3Korolevich, S. (2021, February 10). How Long Does A Background Check Take? GoodHire. Retrieved May 28, 2022, from <https://www.goodhire.com/blog/how-long-do-background-checks-take/>
4How Long Do Pre-Employment Background Checks Take? (2022, May 25). Indeed. Retrieved May 28, 2022, from <https://www.indeed.com/career-advice/career-development/how-long-do-a-background-check-take-for-a-job>
5Court Information. (n.d.). The State Bar of South Dakota. Retrieved June 2, 2022, from <https://www.statebarofsouthdakota.com/court-information/#>
6Bankruptcy Court Records. (n.d.). Berkeley. Retrieved June 2, 2022, from <https://multimedia.journalism.berkeley.edu/tutorials/bankruptcy-court-records/>
7Mayber, E. (2022, March 29). Studying the correctional system: 66 counties and only 25 jails. Keloland. Retrieved June 1, 2022, from <https://www.keloland.com/keloland-com-original/studying-the-correctional-system-66-counties-and-only-25-jails/>
8What is a Death Certificate and why do you need one? (n.d.). ScienceCare. Retrieved June 2, 2022, from <https://www.sciencecare.com/blog/death-certificate-need-one>